clean and safe office space
MagiCleanMaid is proud to offer reliable, affordable office and commercial cleaning across the San Diego County Area. We combine over a decade's worth of professional expertise with tried and true cleaners to deliver consistent cleaning, so that you can stop worrying about your facility's cleanliness and get back to your bottom line. Regardless of whether you have to keep your office healthy and clean for your workers, or make a first impression on potential clients, MagiCleanMaid can ensure you hit the mark.
Quality You Can Trust
Businesses all across San Diego trust MagiCleanMaid to provide their janitorial services because they know about our commitment to quality. From the moment we step into your facility, we start work on standardizing your cleaning to make sure you'll always get the cleaning you need.
Our experienced crews will start off your contract by giving your space the MagiCleanMaid Deep Clean. Every nook, every cranny, no dust bunnies left behind. From then on, our crew will follow a cleaning schedule to maintain this level of clean. Should you have any comments or issues with the service you're receiving, we are always available to listen and incorporate your feedback.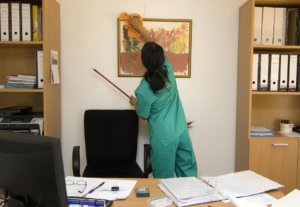 Contact Us today and we will help you to get your Office cleaned fast. We Take Office Cleaning Seriously! Let our professional team from MagiCleanMaid quality cleaning services provide you with the best Office cleaning services.
Our Services In The Following Areas