Home Cleaning Professionals Available in San Diego
Moving Cleaning Services
Moving is not an easy task. Everyone who experienced at least once in their lifetime knows how moving is a stressful job. Packing your things, arranging moving services, as well as changing school system and etc... it all can take a lot of effort and be stressful. Additionally, you need to ensure the house you're leaving is spotless either to get your deposit back and that your new home is prepared for move-in day. Give the professionals at MagiCleanMaid a chance to take off the stress of pre and post move cleaning. Moving are dirty and chaotic by nature. MagiCleanMaid moving cleaning services will take care of your home chores. Our professional team can ensure that your new home you are moving in or the one you are moving out looks clean and shimmering. Book MagiCleanMaid quality cleaning services and enjoy your move. Our team is well prepared and supplied with the right products. As a legitimate cleaning company, we use quality cleaning products.
Move Out Cleaning Checklist
Whole House
Dust/clean ceiling fans and light fixtures.
Remove cobwebs.
Clean window ledges.
Clean all light switches and outlets.
Dust baseboards, molding, and door frames.
Sweep/Mop Floors.
Vacuum carpeted areas.
Kitchen
Scrub and clean countertops.
Clean sink and sink fixtures.
Wash off fingerprints on cabinet and drawers.
Wash the refrigerator/freezer inside and out.
Wash stove/oven inside and out.
Clean inside and out of the microwave.
Clean stove hood.
Clean inside of the cabinets/drawers
Clean dishwasher.
Bathrooms
Clean inside of bathroom vanity.
Clean mirrors.
Scrub tub/toilet/shower doors.
Clean all sink/tub fixtures.
Bedrooms/Living Room
Clean out any installed cabinetry/shelving.
Wipe down all surfaces.
Wipe Fireplace.
Vacuum carpet.
Wash the floor.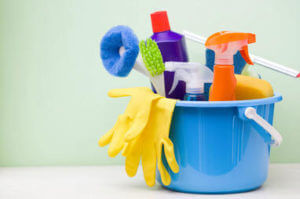 Contact Us today and we will help you to move out of your old house and to move in into your new house fast and clean. Let our professional team from MagiCleanMaid quality cleaning services provide you with the best Move out / Move in cleaning services.
Our Services In The Following Areas